29, June 2023
Investment Banking Data Room Solutions for Maximizing Deal Value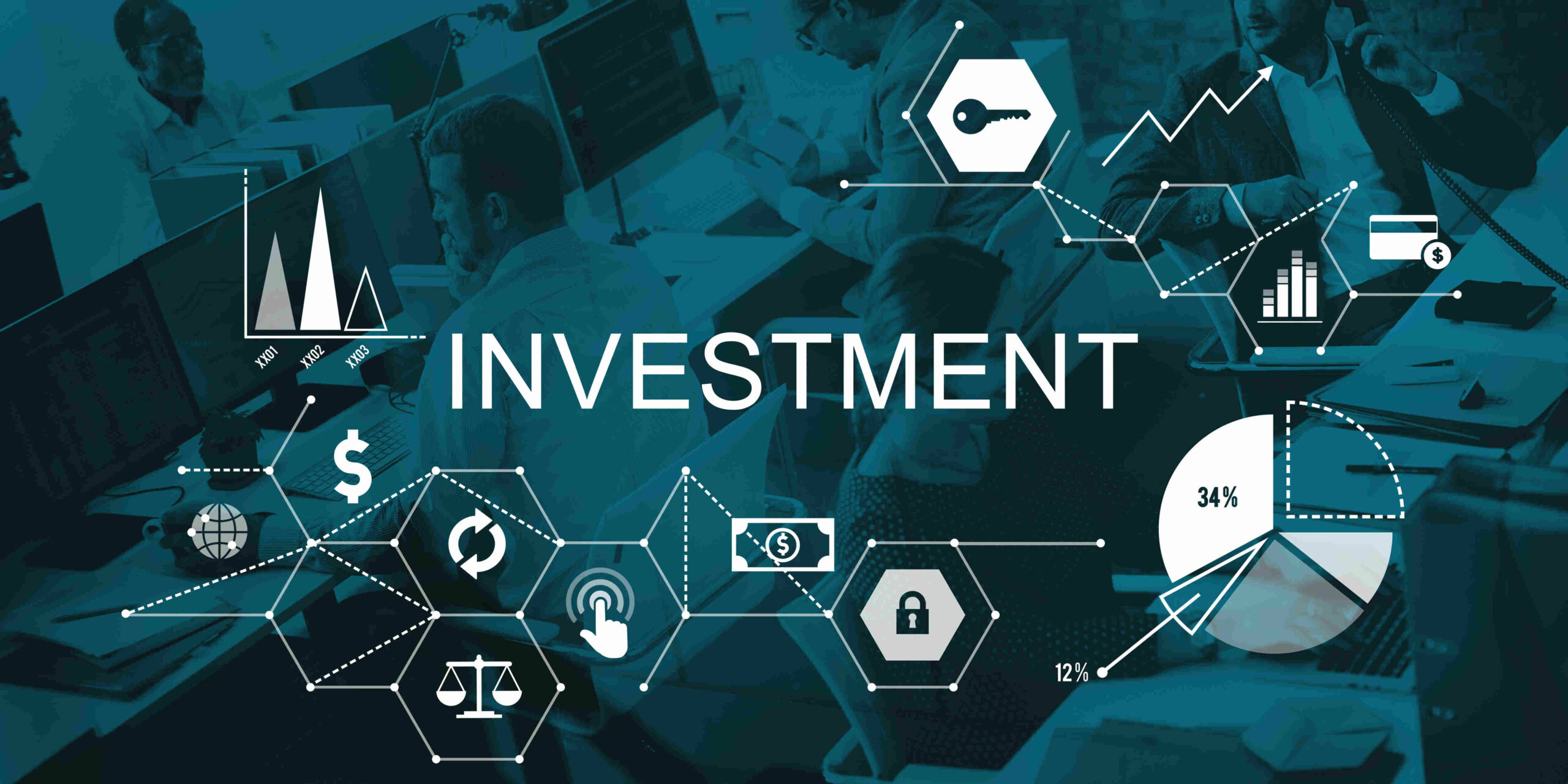 Investment banking trends for mergers and acquisitions transactions underwent a significant change in 2022. Despite a strong beginning that was probably a carryover from 2021's record-breaking year, it came to a disappointing ending. In 2022, the global M&A deal activity decreased by 35% from the first half of the year to the second one.
What is the cause behind it? A variety of concerns, including a looming global recession, geopolitical unrest, rising interest rates, and continuous supply chain disruptions, could be to blame for such a substantial fall.
Based on our experience, M&A transactions completed in turbulent economic times frequently succeed. That said, today's economic climate may even benefit those pursuing M&A investment banking opportunities.
Whatever decision you make, we invite you to see how virtual data rooms for investment transactions transform the investment banking industry and help leading banks protect their confidential data, achieve transparency, improve collaboration, and accelerate investment banking deals.
What is a data room in investment banking?
Investment banking data room is software that is used for secure data exchange while conducting financial transactions. The banking sphere requires certified software products that ensure a highly secure space for operating confidential information, and this is where data rooms come into play.
Most often, banking corporations use virtual data rooms to complete mergers and acquisitions, due diligence processes, initial public offering (IPO), fundraising, and other business transactions.
How does a virtual data room outperform physical data rooms?
A virtual data room in investment banking helps all stakeholders in a transaction to effectively overcome physical data room drawbacks such as time-consuming document organization and management, difficult data access for parties from remote locations, and uncertain safety.
How can virtual workspaces offer better security than traditional data rooms? The answer is simple: online documents within the data room are under multiple layers of protection, which makes them resistant to physical and cyber threats. Physical documents, in turn, can be easily copied, stolen, or lost.
However, storing and securing sensitive documents in one place is one of many benefits of a virtual solution. More specifically, investment banking data rooms provide a range of features that make the file-sharing process simple and efficient. For example, virtual data rooms can be configured to allow users to upload and download documents in various formats, share documents with multiple users, and search for documents quickly and easily.
Furthermore, tools for simultaneous multiple project management without much effort and data collaboration functions fundamentally distinguish a digital solution from a physical one.
Keep reading to discover how virtual data room providers became a significant catalyst for investment banks.
Why do banks use virtual data rooms?
Investment bankers employ virtual data rooms to take an active and forward-thinking approach to each investment banking deal, including the following:
1. Secure sharing and storing of financial documentation
M&A, due diligence process, and other complex data-heavy operations entail meticulous examining and evaluating of hundreds of financial documents. Therefore, ensuring their safety necessitates a secure location to protect the entire deal lifecycle. Virtual data room investment banking reduces the probability of unauthorized access to confidential information and lowers the risk of third-party information theft, delivering safe document sharing for financial advisors, investors, lawyers, potential buyers, and others.
Furthermore, VDR banking vendors implement the latest encryption technologies. For instance, some of the most robust encryption mechanisms use an advanced algorithm to encrypt data, making it virtually impossible to decode without the correct key. These are RSA with 2048-bit, AES with 256-bit keys, and Triple DES with 56-bit keys.
2. Improved collaboration
The data rooms banking platform enables the synchronization of all data in one safe place. Using one software product improves the organization of working processes. In addition to the fact that the work on one platform optimizes the company's work, the VDR provides an opportunity to give access to specific documentation to external interested parties. A virtual data room is the ability to access information that is in the cloud platform at any time from anywhere in the world. Round-the-clock access to information dramatically facilitates the business communication of parties involved from different time zones.
3. Full control and transparency
Virtual data rooms for financial services allow you to control user activity in your cloud space fully. You have the opportunity to receive reports on views, time, and the number of users who worked in the VDR. Such statistics make it possible to determine the level of involvement of the buyer or seller. Opportunity for enhanced supervision investment bankers can also monitor tasks and the status of processes.
4. Accelerated transaction process
Given all of the above advantages, banking transactions are carried out much faster due to the availability and transparency of processes. The technology at the core of the online data room simplifies the exchange of data, eliminating duplicate requests, and you can easily assign tasks.
5. Risk reduction
Full control over the data room investment banking space, ease of use, and accessibility helps reduce the risk of loss of information. Drawing on our own experience, human error is the primary cause of most data loss in business, but other causes include hardware theft, software corruption, computer viruses, hardware impairment, natural disasters, and power failure.
How does banking use VDR software?
Most of the processes in the field of banking and finance are carried out in the virtual space. The most common ways to use VDR investment banking solutions are as follows:
Most of the processes in the field of banking and finance are carried out in the virtual space. The most common ways to use VDR investment banking solutions are as follows:
To define and control the transaction time
Preparation of investment proposals for potential participants
To improve cooperation between the buyers and sellers
Conduct due diligence
To define and control the transaction time
Preparation of investment proposals for potential participants
To improve cooperation between the buyers and sellers
Conduct due diligence
To successfully plan the integration
Secure document exchange
Loan syndication
Bankruptcy
Restructuring
Sell-Side and Buy-Side M&A
Raising Capital
Rights Issues
Strategic Partnerships
Debt and equity fundraising
Bankruptcy
Restructuring
Loan syndication
IPOs
Top 5 data room providers for investment banking
Whether you need a virtual data room for IPO or mergers and acquisitions, it should completely satisfy your investment banking needs. But can every data room provider do this? Unfortunately, no.
Many advanced virtual data rooms with years of experience on the market still differ in security measures, project management features, communication tools, virtual data room pricing, etc.
But no worries — we are happy to help you choose the best investment banking technology to provide your team and other interested parties with data security and deal-simplifying features.
Our investigation has shown that the top virtual data rooms for corporate finance deals are as follows:
iDeals
Intralinks
Clinked
DataSite
Secure Docs
1. iDeals
Founded: 2008
Headquarters: London, England, United Kingdom
iDeals virtual data rooms is the market-leading on-premises and cloud solution serving multiple industries, including investment banks. iDeals stands out for its exceptional safeguarding measures that ensure no data breaches can occur. Furthermore, the platform boasts numerous tools for managing documents and users, a user-friendly interface, collaboration options, and expert 24/7/365 customer support.
Capterra score: 4.8 (248 user reviews)
Key iDeals features:
ISO 27001 and SOC 2 certification
Remote shred
Fence view
Scroll-through viewer
Drag-n-drop
Quick search with labels
Upload in any format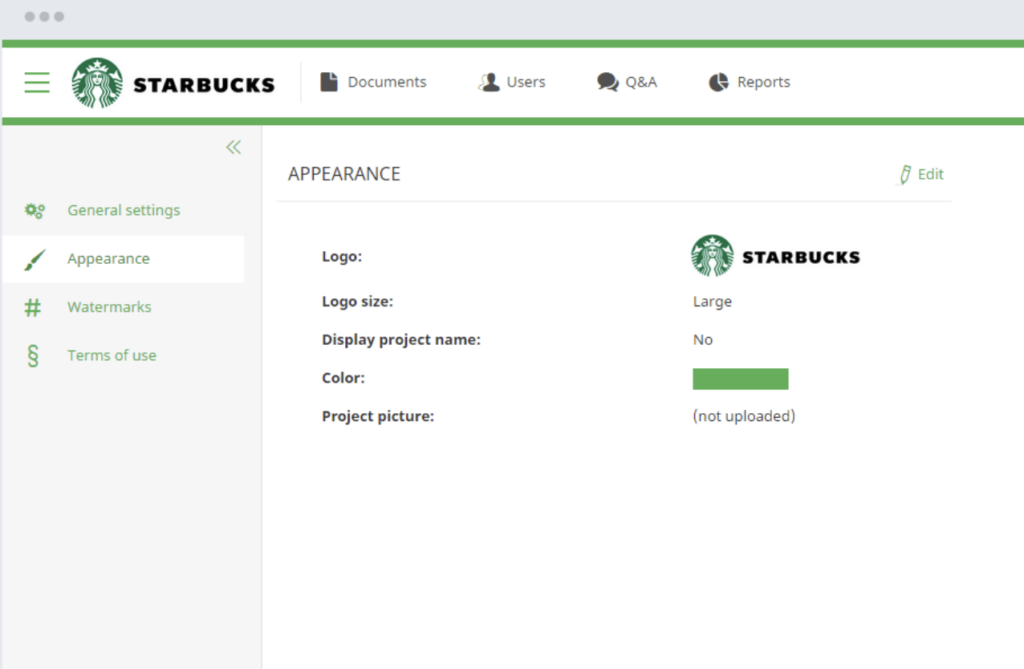 2. Intralinks
Founded: 1996
Headquarters: New York, New York, United States
Intralinks is a virtual data room banking platform designed for investment banking. It is a secure cloud-based system that allows financial professionals to manage and share sensitive documents with internal teams and external stakeholders. With its intuitive design and industry-tailored features, Intralinks enables users to store, track, and analyze data related to their deals while maintaining complete control over their files.
Capterra score: 4.1 (18 user reviews)
Key Intralinks features:
16-level user permissions
AI-powered redaction
Insights Dashboard
Zoom integration
Mobile interfaces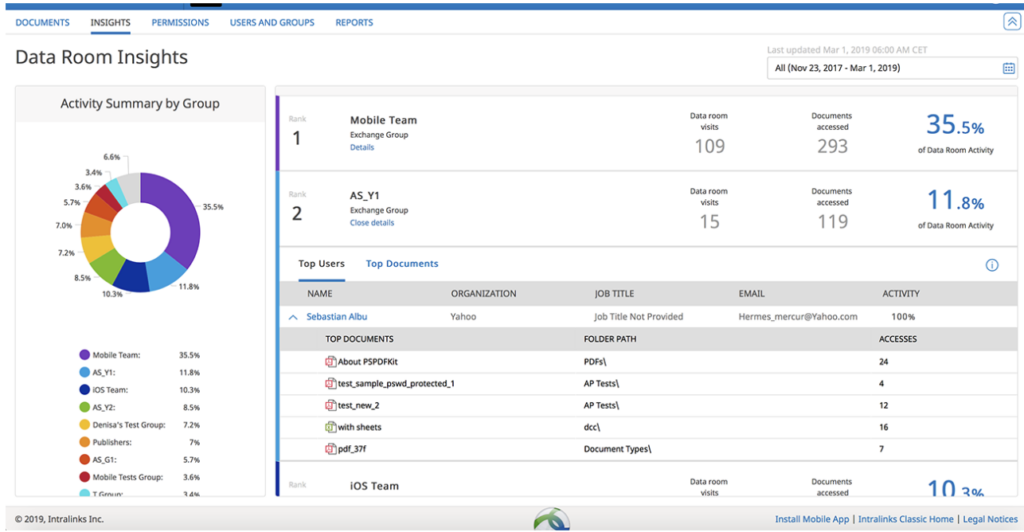 3. Clinked
Founded: 2008
Headquarters: Cambridge, Cambridgeshire, United Kingdom
Overall, Clinked virtual data rooms provide a secure and reliable platform for investment bankers to store and manage their data. With features like encryption, secure storage, and audit trails, Clinked ensures that investment bankers have the tools to safely and securely store and access privileged data.
Capterra score: 4.8 (53 user reviews)
Key Clinked features:
Automatic account lockout
256 bit SSL in transit and AES encryption at rest
Automatic log-off
Instant file viewing
Version control
Activity stream
4. DataSite
Founded: 1968
Headquarters: Minneapolis, Minnesota, United States
DataSite virtual data room is a feature-rich platform promoting secure data storage and collaboration for M&A sell-side and buy-side. Additionally, it offers efficient transaction and document management solutions to many organizations, including financial institutions.
Capterra score: 4.5 (23 user reviews)
Key DataSite features:
GDPR and CCPA compliance
Real-time reporting
AI content organization
Fast data indexing
Diligence Analytics
Dashboard insights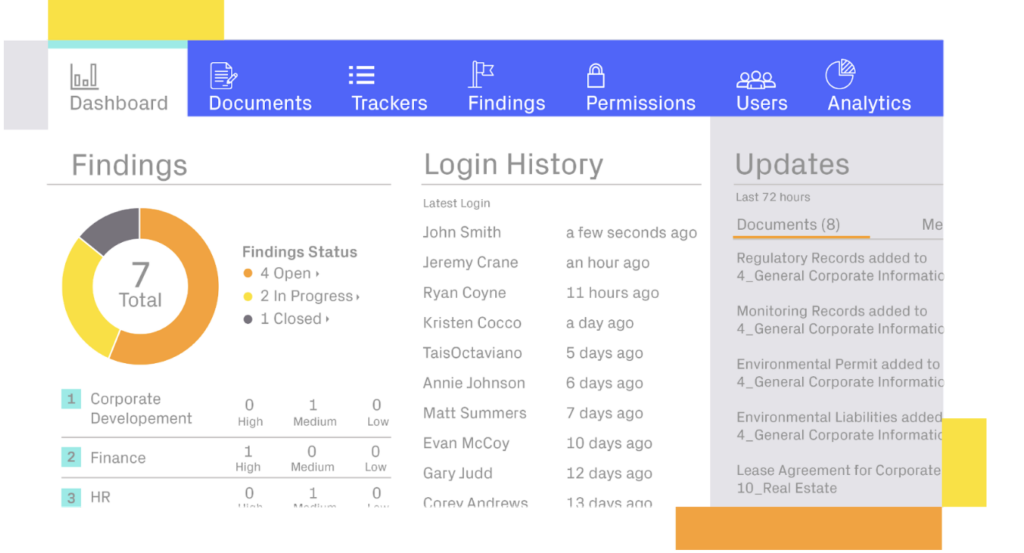 5. SecureDocs
Founded: 2012
Headquarters: Goleta, California, United States
SecureDocs virtual data rooms serve as a digital space for safeguarding and exchanging confidential files safely accessible to authorized users. This tool caters to companies regardless of size or industry and is helpful in various scenarios such as audits, fundraising, business valuations, mergers and acquisitions, and the due diligence process.
Capterra score: 4.9 (148 user reviews)
Key SecureDocs features:
Certified Amazon Web Services data centers
Two-factor authentication
Watermarking
Single Sign-On (SSO)
E-signature
10-minute setup
You can check other data rooms for due diligence and many other use cases to review other options on the market and choose the best one for your business needs.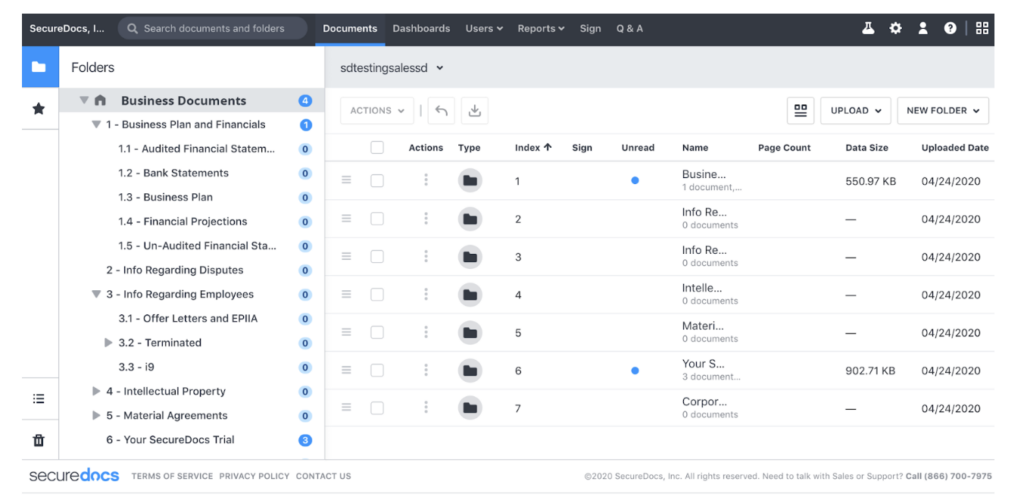 FAQ
1. What is a data room in investment banking?
A data room in investment banking is an online virtual space where you can share and store privileged data related to a financial transaction. It is used as a secure repository for vital documents, due diligence materials, financial projections, legal documents, and other confidential information. Access to the data room is typically restricted and includes multi-step authentication.
2. How secure are data rooms for financial documents?
Data rooms are highly secure for financial documents. Since virtual data room providers offer sophisticated data encryption and access control mechanisms, an investment bank can ensure that their confidential documents are only accessible to the right people.
3. What features should a data room have for investment banking deals?
A data room for investment banking deals should be highly secure. It should have robust encryption protocols to protect sensitive information from unauthorized access and ensure compliance with all privacy laws. The data room should also have additional project management features allowing investment bankers to manage multiple projects and parties simultaneously..
4. What should I include in an investor data room?
An investor data room should include many documents, such as company organization documents, financial information, pitch decks, market information, and people-related documents. However, the list of required documents may depend on the deal specifics, so it is essential to consult with lawyers and consultants.