29, June 2023
Real Estate Virtual Data Rooms: Streamlining Deals in 2023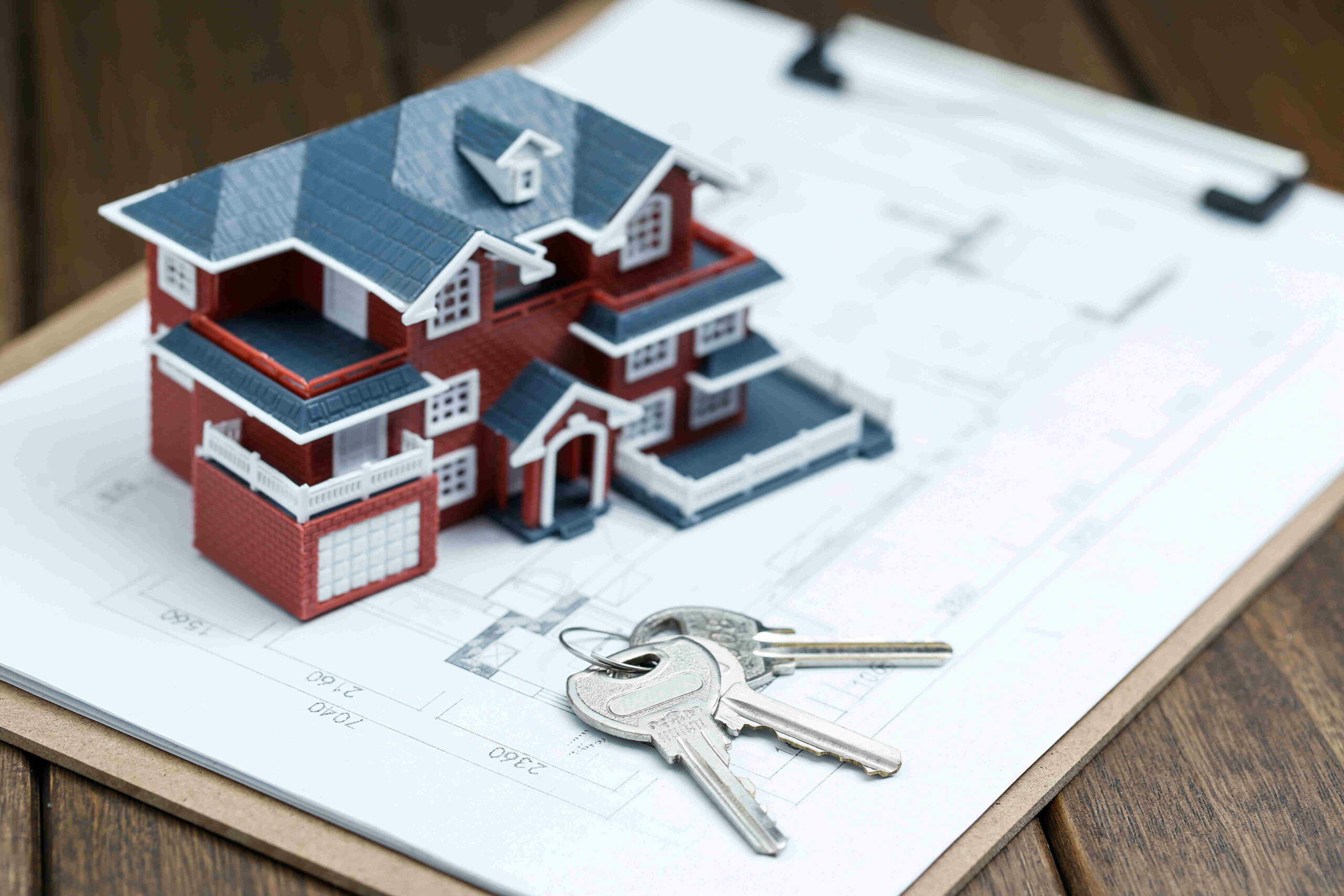 Due to the rapidly changing macroeconomic environment in 2023, the real estate industry is unstable, with cautious investors and lenders resetting their expectations.
Given this challenging time for deals, 52% of White & Case survey respondents say they are either unsure or pessimistic about the possibilities of real estate transactions in the short term, while 48% are cautiously optimistic.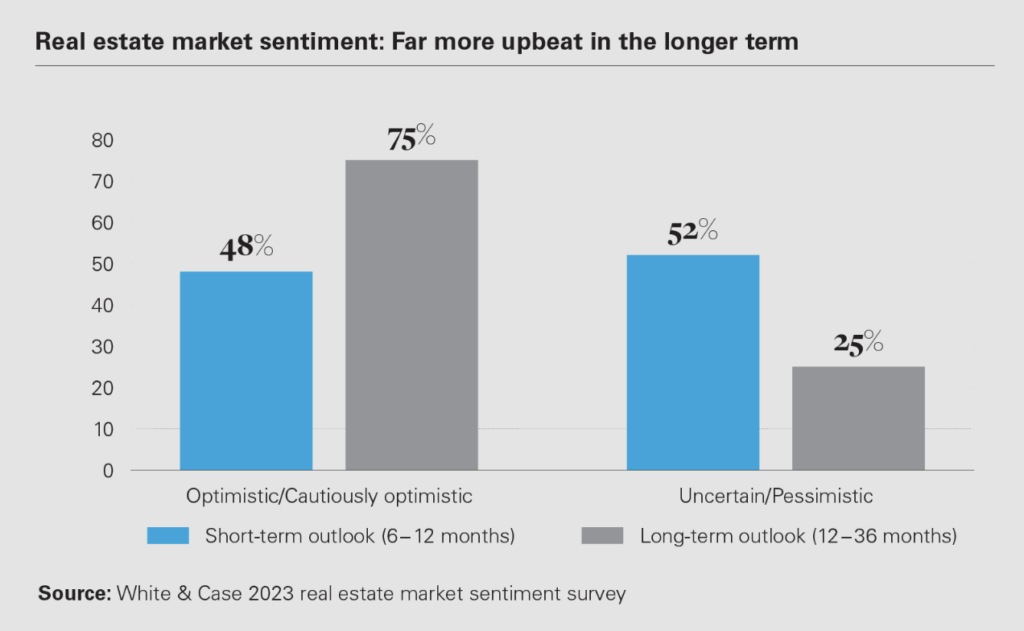 Whether you are a pessimist or an optimist, you can use a virtual data room to empower and streamline your deal. It's feature-rich real estate investment management software designed to boost property transaction efficiency.
Use cases for virtual data room in real estate
Implementing a virtual data room into real estate management workflow is a game-changing business solution. See how firms use this secure data storage for various real estate projects.
Commercial property transactions
Investors need to consider and plan every real estate purchase meticulously. Thus, they may question whether the rewards outweigh the risks and whether there are better deals on the market. Scrutinizing each aspect builds their confidence before proceeding.
With a real estate data room, investors obtain all the pertinent documents, providing comprehensive answers to any inquiries and eliminating post-transaction surprises.
Residential real estate transactions
The role of data rooms in residential real estate is gaining prominence as more buyers and sellers employ online platforms to search for properties, schedule virtual tours, and make deals remotely.
In particular, video tours have become a contemporary trend in the real estate sector. Thus, prospective buyers can conveniently view all they need without leaving their offices or homes. Furthermore, teams can now offer digital copies of real estate documents rather than printed ones.
Property management and operations
Property managers must stay organized and keep accurate records of all transactions. It includes collecting and filing rent payments, tracking maintenance and repair costs, and recording all tenant complaints and requests. In addition to managing the day-to-day operations, real estate professionals must also be knowledgeable about the real estate market and anticipate market fluctuations.
A digital data room for property management provides easy-to-navigate storage that organizes confidential documents automatically and AI-powered tools for market research.
Real estate investment trusts (REITs)
The intricacies of real estate investment trusts (REITs) can be challenging to grasp, mainly due to numerous legal stipulations surrounding REITs, their assets, and income.
However, amid mounting regulatory requirements, data rooms for investment banking are handy tools enabling REIT administrators to keep investors and shareholders abreast of the latest developments in acquisitions, appraisals, and zoning disputes and fulfill compliance responsibilities.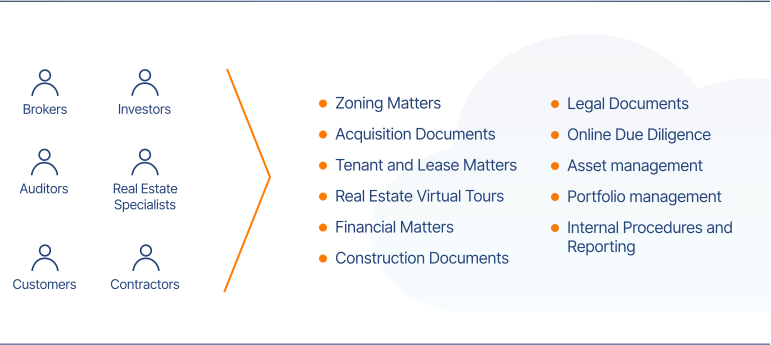 What virtual data rooms offer to real estate firms?
With a virtual data room, Real Estate firms and managers can improve nearly every aspect of their business. Here are a few solutions to how a virtual data room can assist the real estate industry.
Manage project documentation
Structurize all documents in a centralized, virtual space, speed up deal closures, and increase transparency.
Manage multiple portfolios simultaneously
Add multiple projects, folders, subfolders, and oversee all projects on a customizable dashboard. Organize collaboration and delegate tasks effortlessly. Request additional files from teammates or partners with one click.
Share documents with partners, clients, auditors
Create effortless and secure file sharing practices and share files with partners, clients, external experts, auditors, etc., to be more productive and transparent. Allow multiple investors to review offers comfortably in their own time and place. Improve the decision-making process for the seller to move forward with the best offer.
Carry out effective real estate due diligence
Ease real estate due diligence by eliminating unnecessary stress and workload. Keep all files in a centralized place, use filters, and label features to find the necessary information in seconds. Communicate with auditors directly on the platform.
Benefits of using a data room for real estate projects
Virtual data rooms are a popular project management tool among real estate brokers due to the many benefits and features they provide. The main benefits include security, transparency, accessibility, timesaving as well as cost-efficiency, and ease of use.
Document security
Virtual data rooms are the most secure cloud-based document sharing service offering specific security features to keep your data protected. The best VDRs comply with international security standards.
Important security functions also include data encryption, two-factor authentication, customizable user permissions, and a lot of functions for minimizing the risk of human error, e.g., accidentally sharing documents with the wrong parties.
Transparency and control
Real estate transaction success heavily relies on the accuracy and transparency of the information you can provide to your potential investors or buyers. Documents such as building plans, zoning matters, tax reports, appraisals, insurance records, etc., need to be shared without a hitch to maintain trust and build relationships. As an administrator, you can create a document structure, set user access permissions, and set up nondisclosure agreements to be signed by users.
A virtual data room also automatically generates reports. You can monitor and review all actions performed by all users within your data room. Reports can help you strategize and predict the possible outcome of deals in action.
Accessibility and timesaving
Virtual data room for real estate enables entire real estate portfolio management online and run multiple projects at the same time. Potential partners and buyers from any location can review documents and ask questions simultaneously without being aware of each other.
A real estate data room enables you to speed up assessment, auditing, and acquisition processes as well as keep records of all conversations among involved stakeholders. International deals can be successful without traveling back and forth too.
Cost-efficiency
A digital solution for sharing large amounts of information is more cost-efficient if compared to traditional data rooms. Virtual data rooms also decrease the need to organize multiple stakeholder meetings for each real estate acquisition phase.
Having records of all documents, conversations, and agreements in a digital format reduces overhead costs, increases collaboration and continuity. Also, using a virtual real estate document repository can save a lot of time, as you have all the necessary information for acquiring new deals at hand.
Ease of use and customization
With an intuitive user interface, virtual data rooms offer easy navigation through heavy loads of documents. Invited external users, who have not used the platform before, can typically use a well-designed data room trouble-free. An opportunity to customize the VDR platform allows the administrator to set it up by individual preferences or needs and include company branding and colors in the layout.
Useful VDR features for real estate project management
What is great about virtual data rooms for real estate is the flexibility and customization of the software. A lot of VDR providers offer tailor-made solutions for real estate transactions. However, the most valued features for real estate deals are as follows.
Granular access control
Granular access control is a helpful feature when sharing real estate portfolios with multiple prospective investors. A VDR allows the administrator to create custom user groups and set individual access permissions to each group, thus ensuring that files are only viewed by permitted users.
Dashboards and reports
Dashboards allow users to oversee multiple portfolios and get a good understanding of their progress. Dashboards and reports enable the administrator to view and filter data or export reports. They are also highly customizable to show data according to user preferences. Reporting and analytics functions provide full traceability of user activity down to which pages have been viewed and for how long.
Supported all file formats and unlimited uploads
A good virtual data room software accepts heavy files, such as video tours, 360-degree photos, architectural drawings, and blueprints, allowing potential buyers to study all materials in their own space with no pressure.
For real estate managers, this function saves a lot of time on property tours, as they can go on a site visit only with the most prospective buyers. Also, subcontractors can share their progress on plans, designs, etc., directly on the VDR platform.
Q&A functionality
Perhaps the most valuable function saving time on both ends of the deal is the Q&A section. The Q&A section typically offers a live chat function allowing real-time communication or partners can also post a question, and the administrator can assign it to a team member. This option speeds up the process, ensures transparency, and allows the seller to go with the best offer.
Additional security features
Features like watermarking, the fence view, the option to disable print, download, forward functionality, IP-address restrictions, etc., adds an extra layer of security for sensitive information such as personal data, trademarks, financial statements, closure agreements, etc.
Choosing a secure real estate deal room can also increase partner trust and save the time needed for a separate NDA signing procedure. A lot of VDR solutions offer automatic non-disclosure agreements as the user accepts the invitation to view files.
Considerations for choosing the right virtual data room for real estate professionals
Choosing the right virtual data room for real estate is essential since it can both help smooth real estate projects or create confusion and delay.
Here are some considerations to help you choose the right VDR for your real estate project management.
Industry-specific features
Real estate teams need to structure real estate documents in an organized manner, track multiple projects simultaneously, work with numerous formats of construction documents without additional plugins, and maintain investor communications in a secure environment. If the online data rooms you choose include tools for all of the above, this is the right technology to improve deal management.

Customization options
A well-structured, branded workspace allows real estate professionals to showcase themselves to potential clients and business associates in the best light. And while customizing may seem insignificant for high-stake projects, taking the extra step to ensure that the data room aligns with your company's identity can positively impact business processes.

Security and compliance
A data room provider should give you an ultra-secure space for confidential documents with tools for complete control over all interested parties. And in addition to the features mentioned above, such as granular user permissions, detailed reports, and watermarking, a vendor must comply with industry-leading security standards such as ISO 27001, HIPAA, GDPR, and SOC 2.

Pricing and contract terms
Virtual data room costs and contract terms vary and sometimes even surprise customers with hidden fees, so you should pay attention to this aspect. In particular, learn about the provider's pricing model, what is in your service package, how much additional users and storage cost, and whether they charge hidden fees.

Customer support
The provider's technical support shouldn't be overlooked, as your team may need urgent professional assistance. For example, users may need help organizing financial documents or solving technical problems during the due diligence process.

Advanced support teams are available 24/7/365 through multiple communication channels. Also, they have expert knowledge, speak different languages, respond within minutes, and find a solution so quickly that a hitch never affects your real estate deal workflow.
TOP VDR providers that offer solutions for real estate industry
Since choosing software can be tricky, we've briefly described the top products and their best features below. It may help you save time searching and focus on the best offers.
iDeals
iDeals is the top real estate data room for asset managers, real estate specialists, and lawyers. The platform's value lies in its unsurpassed combination of user-friendliness, sophisticated mechanisms for protecting your confidentiality in real estate deals, advanced tools for managing documents, and a range of helpful collaboration features.
For data management – bulk actions, upload in 25+ formats, automatic numbering, and OCR search engine.
For security – 256-bit data encryption, dynamic watermarks, robust spreadsheet viewer, granular file and user permissions, remote shred, fence view, and time or IP access restrictions
For ease of use – single sign-on, scroll-through viewer, data room solutions in multiple languages, and mobile apps for iOS and Android.
Intralinks
Intralinks is often used for real estate M&A (mergers & acquisitions), asset management, and also as a data room for fundraising. Thus, real estate professionals can store due diligence documents in a highly safe space, easily oversee their portfolios, and invite the right investors.
For data management – AI-powered redaction, bulk upload, customizable search, and large-file support.
For security – unshare feature, watermarking, user permissions with 16 user roles, and data-encryption keys for each client.
For ease of use – intuitive web and mobile interfaces, simplified Q&A, Zoom integration, and mobile access.
Clinked
Clinked is a simple, cost-effective white-label software that allows you to manage documents and collaborate with potential buyers and investors in customizable workspaces. So, in addition to numerous features to match your company branding, the software also offers 3,000 integrations.
For data management – online document version control, file upload via email, and e-signatures.
For security – end-to-end encryption, extra password protection, activity streams, and automatic account lockout.
For ease of use – embedded GoogleSheets, user-friendly Q&A, and mobile apps.
Visit our main page to learn more about these providers and see the full list of other VDR vendors suitable for real estate businesses.
FAQ
What types of real estate transactions can benefit from using a virtual data room?
Real estate due diligence, asset management, investment management, real estate portfolio management, and bankruptcy and restructuring can benefit from using a virtual data room.
What are the key features to look for in a virtual data room tailored for real estate?
Secure document storage, user access management, protected file-sharing, document management features, detailed reporting, branding, and collaboration tools are the key features to look for in a virtual data room for real estate.