29, June 2023
Fundraising Data Room for Investors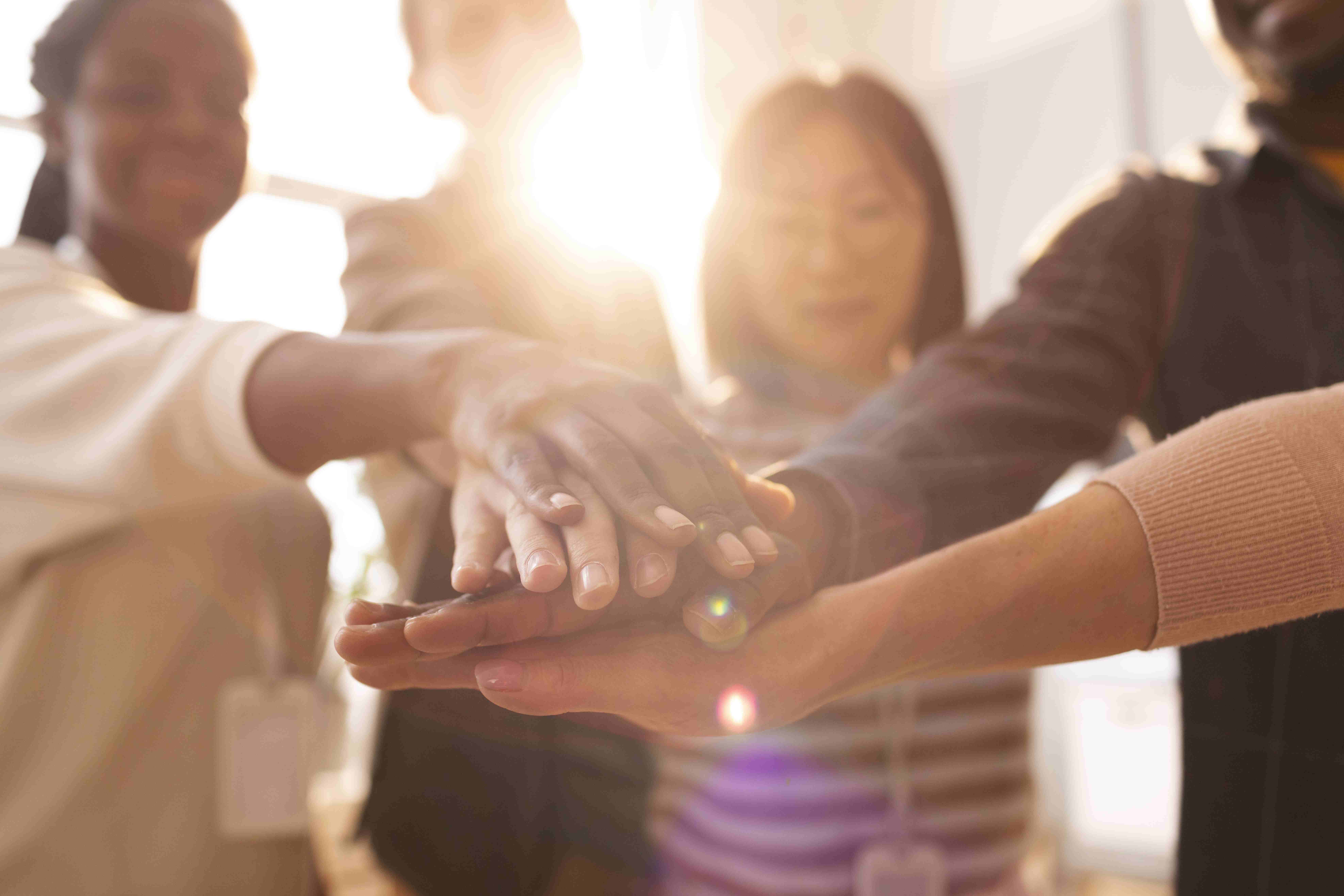 What is a virtual data room for fundraising?
VDR is software that is used for different business purposes. Virtual data room for venture fundraising has a special structure, which is the most convenient for potential investors and limited partners. A fundraising data room is used for organizing the necessary information about the company on the one highly secure online space in order to ensure effective communication with prospective limited partners (LPs). Tech flexibility and ease of use of online data room software facilitates and improves the effectiveness of the fundraising process and solves the issues of the exchange of confidential data and anytime access from anywhere in the world.
A well-organized investor data room can significantly speed up the fundraising process. Startups and other capital seekers have the power to showcase their best qualities, while investors process information in a straightforward, big-picture way. Let's explore the essential elements of getting a fundraising data room investor-ready.
Virtual data room for startups
Data Room Providers
Opportunities
Data Rooms for Startups
iDeals provides competitive flexible pricing for startups. Fully customized interface. Round-the-clock technical support. It is possible to brand the virtual data room according to your corporate style.
The Datasite diligence virtual data room offers customers essential features such as watermarking, audit log, and permission controls.
The minimum purchase period for the service is 3 months. Payment for services is required quarterly. 24/7 support, ease of use, wide range of features.
Provides discounts for the first month of use. Up to 5 gigabytes of virtual storage. Does not provide the ability to brand the interface.
Monthly payment for a new user and additional virtual storage. Custom Domain and White Label are not available.
How to prepare data room for fundraising?
In order to highlight professionalism and attract more partners, companies choose VDR business software that is well known as the most secure online platform for document flow. After you choose the best virtual data room provider for your business, you should follow several simple steps of preparing the fund data room:
Set up data room software.
Organize a convenient structure of virtual data room for fundraising.
Upload the documents according to the fundraising checklist below.
Set the access rights to all potential users.
Send a unique access link for fundraising data room to limited partners, investors, or other 3rd parties.
Conduct the fundraising: keep the discussion within the virtual data room, track activity, sign the agreements.
Systematically update the relevance of the documentation and check the relevance of user access levels.
Setting up the fundraising data room correctly can significantly simplify and speed up the deal. As long as your investor data room is straightforward and functional, there should be no complications along the way.
It might help to imagine a physical data room when organizing your VDR. Think of what will be accessed first and what the decision-making process will look like from the investor's side.
While the software setup process is similar, getting ready for each deal is unique to the specific company or project. However, there are two things you can do to ensure you'll get the most out of your fundraising data room experience:
Find the provider that meets your expectations and offers a versatile feature set. Although it's pretty common to select VDR provider based on price, you may get better results by focusing on the features they offer instead.
Gather all the necessary documents by using a checklist (such as the below). If you are dealing with physical paperwork, scan it and create a clear indexing system.
Once you found the provider and got the documents ready, it's time to set up the virtual data room for investors. You can do it in seven simple steps:
1. Set up the software
Established fundraising data room providers often offer help with setting up the software. In most cases, the process won't take too long as modern data rooms are available via web access.
Take advantage of all the guidance and training your provider delivers. Also, make sure the investor data room is available through various platforms and devices to guarantee the utmost convenience to all users.
2. Establish a comfortable layout
The internal organization of your investor data room has to be intuitive and straightforward. It shouldn't take long for the investors to locate the necessary data or find answers to any questions they might have.
Make as many folders, sections, and subfolders as you see fit, but make sure not to overcomplicate things. It's also a good idea to customize the virtual data room for investors in terms of colors and brand, so the deal appears clean and is more likely to be considered.
It might help to imagine a physical data room when organizing your VDR. Think of what will be accessed first and what the decision-making process will look like from the investor's side.
3. Upload the documents
Once the folder skeleton is ready, upload the files into the virtual data room for investors. Pay attention to file names and take advantage of automated indexing features to simplify finding each piece of data.
Some providers offer bulk uploads and drag and drop features to speed up placing the documents into the fundraising data room.
4. Assign the access rights
Next, consider the level of confidentiality for every data piece and allocate access privileges accordingly. Some sections of your investor data room, for example, HR details, may need to be restricted from unauthorized personnel.
Depending on your company's size and deal volume, you can choose between distributing access rights individually or in groups. It also helps to create several separate fundraising data room sections for different stages of the transaction.
5. Apply access conditions
Highly confidential documents require more than access restrictions. Use the investor data room NDA feature to establish mandatory non-disclosure signing every time the VDR users open particular files.
You can further protect the information inside your virtual data room for investors by prohibiting screenshots, downloads, and printing. Experienced VDR providers also offer a remote shred feature, giving you an option to retrieve the document even after downloading.
6. Invite users
Send a unique access link to the fundraising data room to everyone who will participate in the process, such as limited partners, investors, or third-party experts. During early capital raising stages, allow guest access to non-confidential data, like pitch deck presentations.
Along with sending out invites, check the notification settings for your investor data room. Alerts about data room updates and new communications can significantly streamline the deal.
7. Process the deal
Now, it's time to get to the deal itself. Focus on keeping up the discussion inside the virtual data room for investors, track user activity, and sign the necessary agreements. You can also use an interactive Q&A tool to create a unified hub for addressing investor concerns and queries.
Update the data room regularly to ensure the documentation and user access relevance. You might also want to reorganize the fundraising data room as the deal enters a new stage or takes a different direction.
What should be in an investor data room?
The document quantity and quality in a fundraising data room dictate the ultimate success of the project. Therefore, it is crucial to provide just enough information to spark interest and demonstrate expertise, but at the same time, not flood the data room with details.
Investors are always after value. They might not be particularly concerned about the intricate mechanics of the company's vision or every step of each strategy. Instead, startups have to stay as specific and as transparent as possible, showing potential investors the exact profit-generating paths.
Once again, pay attention to the confidentiality level of every document inside the virtual data room for investors. For example, employee details and detailed IP strategies should only be available to key stakeholders and top-level executives.
The primary purpose of an investor data room is to simplify and speed up fundraising. Keep that in mind when deciding what documents to include. The following sections and examples fall under the category of necessary fundraising data room documents:
The fundraising essentials
This segment of the fundraising data room will feature items that have probably been shared already. However, it is still important to keep them accessible in case the investors want to review or reference them.
Make sure the documents in this category don't contradict data from other sections and update them if anything changes. Here are a few examples:
One-page executive summary
Pitch deck presentation
Business plan
Strategy summary
SWOT analysis
The financials
All investors look for profit and impact. And the most transparent representation of the company's state is its financial statements — with no discrepancies, inconsistencies, or errors.
Even nonprofits and loss-making startups have to provide honest, self-aware financial data as proof of professional integrity and a realistic understanding of their current abilities. Include:
Asset sources and uses
Operating budgets
Projections
Balance sheet, income and cash flow statements
Outstanding debt info
The team
Human resources drive any startup forward. Providing a description of all team members in the virtual data room for investors is an excellent showcase of the company's strengths and opportunities.
It can be a good idea to feature short bios of the most significant contributors and decision-makers. And it's imperative to feature titles, job descriptions, and salaries. The team section of an investor data room can contain:
Organization structure chart
Turnover summary and analysis
Employee agreements
Future hiring plans and candidates
Onboarding document samples
The intellectual property
It is critical to provide the necessary information not only regarding a company's products and services, but its intellectual property as well. Investors look at IP details to get a sense of the project's value or investigate transparency and legitimacy. The fundraising data room intellectual property section has to feature:
IP strategy summary
Granted and filed patents
Trademarks
The investment strategy and procedures
Describe both short-term and long-term scenarios, and don't spare the details talking about potential investors' rights and privileges. Place the following in the fundraising data room:
Capitalization table
Investment charts
Voting agreements
Right of first refusal and co-sale agreements
Investment guides
Every virtual data room for investors is unique. Have the fundraising team brainstorm what items of the investor data room will benefit your project the most. Also, consider consulting the VDR provider on the necessary documents for raising capital.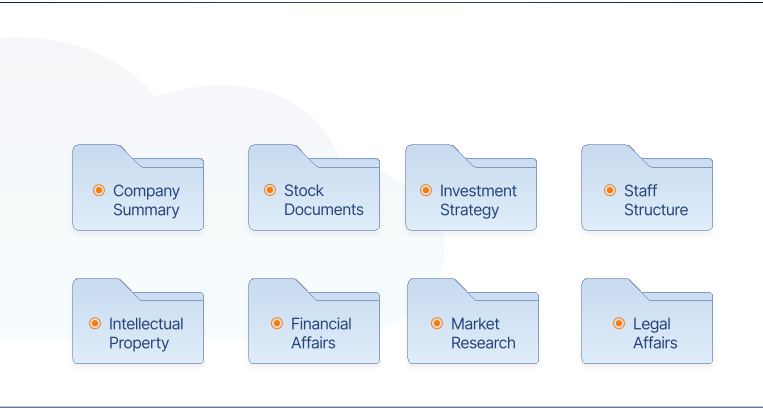 Investor data room checklist
The fundraising checklist contains a list of basic documents that need to be loaded into VDR and segmented according to the indicated categories for the convenience of limited partners (LPs). Gather all documentation according to the following fundraising checklist and upload all the files to your online data room according to the sections:
Affairs
Documents
Affairs & Documents
Strategy
Branding guidelines and vision
SWOT analysis
Disaster recovery plan
Interest-bearing of a private equity
Sales process pipeline
Institutional Limited Partners Association compliance
Socially Responsible Investment policy
Private Placement Memorandum
Environmental, social and corporate governance policy
Private Placement Memorandums and Schedule of previous funds
Due Diligence Questionnaire
List of key contacts
Investment Strategy & Process
Voting agreements
Investor rights agreements
First refusal & co-sale agreements
Stock purchase agreements
Preliminary and Final Investment Recommendations
Incomplete investment chart
Investment Guide
Capitalization table
Investment/ exit LP notification
Compensation Agreements
Organization structure chart
Team Summary (employees, titles and salaries)
Staff turnover
Employee agreements
Future hiring
List of contractors
Granted and filed patents
Trademarks
Intellectual Property strategy
Profit and loss statements
Pro-forma statements for next year
Projections
Management company budget
Quarterly and annual plans
Internal Reporting Portfolio
Competitive market analysis
Internal Market Reports
Third-Party Market Reports
Long Term Power of Attorney Project
Non-disclosure agreement
Benefits of a virtual data room for investors
Setting up a virtual data room for startups recently began to gain momentum. The combination of the pandemic and the overall strive for remote deal-making resulted in an interesting peak and numerous successful transactions.
Some startup founders continue to overlook the opportunities that come with a fundraising data room. But although disregarding an investor data room option might appear cost-effective in the short run, it can significantly slow down and complicate the deal.
To demonstrate the evident advantage of a virtual data room for investors, here are the most noteworthy VDR fundraising benefits:
Utmost security. A technically advanced fundraising data room will have several sophisticated security practices in place. Starting from physical locations of the data servers to state-of-the-art software protocols, a virtual data room is the most reliable solution for storing and sharing sensitive information.
Cost reduction. The physical equivalent of fundraising via an investor data room is pitching in person at public and private investor meetups or on-site presentations. Considering the prices of transportation, accommodation, and admission, a virtual data room for investors, is a more budget-friendly option.
For example, an attendance fee at a single private investors' conference can equal a year of fundraising data room usage costs.
Access convenience. The digital nature of your investor data room allows access from any location at any time. Such accessibility is a great asset for cross-regional and international projects as it allows to include more potential investors simultaneously.
Plus, when your fundraising data room is compatible with different devices and platforms, all interactions happen quicker and more efficiently.
Enhanced due diligence. Provided you made an effort and gathered all the critical documents in advance, the usually intricate due diligence process becomes much more coherent. Using a due diligence checklist helps structure the investor data room in an investor-oriented way and shows your level of vigilance.
Informed engagement tracking. Automatic user tracking is an incredible tool in keeping a hand on the pulse of the deal progress. You can use the reports to direct attention to the overlooked portions of data, restructure the fundraising data room layout, and address the weak elements.
Elevated decision-making. A virtual investor data room facilitates resourceful and more inclusive deal processes. As each investor has access to all the necessary data at once, they can communicate any concerns and make decisions faster.
Pay particular attention to the investors who lost interest or rejected the opportunity. Understanding where they're coming from can help you improve the virtual data room for investors and the deal flow, in general.
Using modern electronic data room for venture fundraising you not only optimize your business processes but also position yourself as a professional partner for your potential investors. In the process of communication with investors, you send a unique link to access your fund data room, where a potential partner can get acquainted with all the necessary information about your activity, ask questions and make a decision on cooperation. This method of communication significantly optimizes working hours, as all the necessary documentation is in one place. The function of categorizing folders ensures the easy search of the necessary documents for future limited partners.
Personalized customization and intuitive interface ensure effective cooperation between companies and investors or limited partners. The opportunity to create a unique folder structure facilitates the user experience and ensures easy navigation for investors. In the fundraising data room software, you can set up the right of protected viewing, read-only rights for the 3rd parties in order to prevent the downloading or editing of confidential data.
Data room for fundraising is the ultimate tool for your startup
Depending on the stage of your fundraising process, you might not need a full-capacity virtual data room for investors. However, you still want to begin looking for a suitable VDR provider and gathering the data for the upcoming deal stages.
This way, you will be ready when it's time to proceed with the capital raising and set your investor data room quickly and effortlessly.
It is not recommended to use free cloud services for storing and sharing confidential information. First of all, using Google Drive or Dropbox does not guarantee the confidentiality of data. Virtual data room software is the best data room fundraising tech that provides Granular Permission Settings, Two-Factor Verification, Fence View, and many other functions that ensure high security. Learn more about the security standards of VDR software.