Headquarters:
Fort Lauderdale, USA
Market Presence:
North America, South America, Europe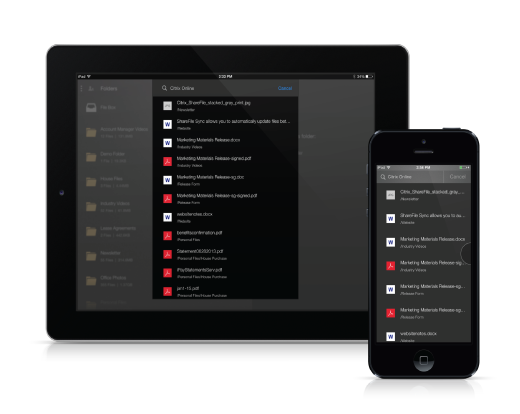 Citrix VDR is an online environment to manage complex executive-level business deals. The portal provides highly controlled user access. Administrators can be notified of activity alerts on a document at any time. Documents are fully secured with sharing controls, view-only reading, and various other restrictive functions. The user interface is designed for simplicity so that IT and non-IT users alike can utilize it easily.
What does Citrix ShareFile do best?
Citrix ShareFile reviews highlight many strengths of the platform. Notifications are popular with administrators. This gives the ability to see instantly when a file is being accessed. It also provides details such as where in the world the file is being viewed. The amount of time the reader spends on a document or individual pages is also tracked.
Here are some of the best attributes of Citrix ShareFile:
The option to share large files with access controls
Confirmation when a user has received and read a document
Cloud storage to securely host and collaborate on files
Automation of workflows to give admins optimal efficiency and control
Efficient uploads and syncing. This enables users to bulk-upload hundreds of files. Citrix Files runs as a plugin to Microsoft Outlook to make this process even simpler.
An offline archive is provided in DVD format by Citrix for each completed project. This ensures online and offline backup for all deals to satisfy audit requirements.
G2

Satisfaction score

72%

Ease of Doing Business With
Citrix ShareFile features
The ShareFile virtual data room service has several features that allow users to keep complete control of their confidential data, easily organize and find files, and effectively collaborate on documents with team members and external parties.
Here are some of the most important features of the Citrix ShareFile virtual data rooms:
Granular user permissions
Dynamic watermarking
Click trails, analytics and reporting
Q&A sections
Content indexing
Full-text search
File check-in/check-out
Email alerts
Software security features
Now let's look at each of these in more detail.
Granular permissions
Being able to set granular user access gives administrator users complete control over their data room contents. With this tool, admins can decide what kinds of access permissions each user has for each document stored in the virtual data room.
When setting a user's access permissions, admins can grant them view-only permissions, or they can authorize the user to edit documents, download them, and even print them.
Dynamic watermarking
This is another feature that increases admins' control over sensitive files. With dynamic watermarking, admins can decide that a user's personal data will be added as a watermark to the files that user opens. This strongly discourages that user from sharing files outside the Citrix ShareFile data room, as they will be quickly found to be the person responsible for the leak.
Click trails, analytics and reporting
With click trails and advanced analytics, data room admins can easily find out which are the most viewed documents, who are the most active users in the data room, and what information those users are most interested in. During time-sensitive deals, this feature helps admins decide which bidders, potential buyers, and stakeholders deserve their special attention.
Q&A section
This tool saves time both for admins and for other data room users. When clients, bidders or prospects have any questions about the information shared in the data room, they can ask them publicly, and receive a public answer from the admin or a member of his team. The answer will be stored in a Q&A room, and will be available for other users to consult, so the admin won't have to answer the same question multiple times.
Content indexing
With content indexing, admins can make sure files and folders are numbered and listed, and can be easily found by any Citrix ShareFile data room user.
Full-text search
This feature makes it easy for all users to find the data they need, even inside large files. All they need to do is type keywords into the search box, and the search tool will list all the files and passages where those keywords are found.
File check-in and check-out
Content collaboration is made easier by this tool, which ensures that all team members working on a file are working on its latest version. When a user starts editing a file, the system checks it out and lets other users know someone is working on it. Once the user finishes work and the file is checked in again, the system will automatically update documents for other users.
Email alerts
If admins want to be constantly updated on data room activity, they can activate instant email alerts. This way they will be automatically notified whenever a user opens or interacts with confidential documents.
Security features
Advanced security features allow all stakeholders to be sure their sensitive data is safe during the most confidential deals. The security features of the Citrix ShareFile VDR include:
Bank-level encryption in transit and at rest
Two-factor authentication and single sign-on (SSO)
Account lock-out configuration
IP restrictions
File self-destruct
What are the pros and cons of the ShareFile virtual data room software?
Benefits of the Citrix virtual data room service
ShareFile VDR customers report this service is easy to use and truly secure, and is a complete due diligence solution. They also find the access notifications feature particularly useful.
Issues with the Citrix virtual data room service
A few ShareFile VDR clients find that there are too many apps available, which can sometimes confuse users. Some users also complain that they cannot create workflow requests
or share their screens with team members while working in ShareFile data rooms.
What are the integration options on the ShareFile VDR?
ShareFile virtual data rooms integrate with other apps on the ShareFile platform. Through Zapier, they also integrate with around 600 external apps that the ShareFile platform integrates with.
How much does a ShareFile data room cost?
Citrix virtual data room pricing is straightforward. If a client is subscribing only to the VDR (and not to other services in the ShareFile platform), they can choose between a monthly or an annual subscription.
With a monthly subscription, the client pays $375 every month. The annual subscription on the other hand costs $338 per month and is billed annually.
These subscription rates are independent of how many users will have access to the VDR – they both include unlimited client users and five employee users. However, if the ShareFile client needs to give more employee users access to his VDR, he can do so at an additional cost.
Companies interested in using the services of the Citrix ShareFile virtual data room can sign up for a 7-day free trial of this service.
Citrix ShareFile solutions
The Citrix VDR data room enables highly confidential M&As and other board-level deals to take place with complete confidence. These deals can include fundraising, licensing agreements, and strategic partnerships. Citrix VDR provides solutions for the following professionals to collaborate on high-level transactions:
Executives and c-suite
Business consultants and brokers
Wealth managers and financial advisers
Public sector contractors
Brokers and deal-makers
Investors and VCs
Companies in high-tech, biotech, and other common M&A industries most frequently use a Citrix VDR.