Headquarters:
New York, USA
Market Presence:
North America, Europe, South America, Asia, Middle East, Oceania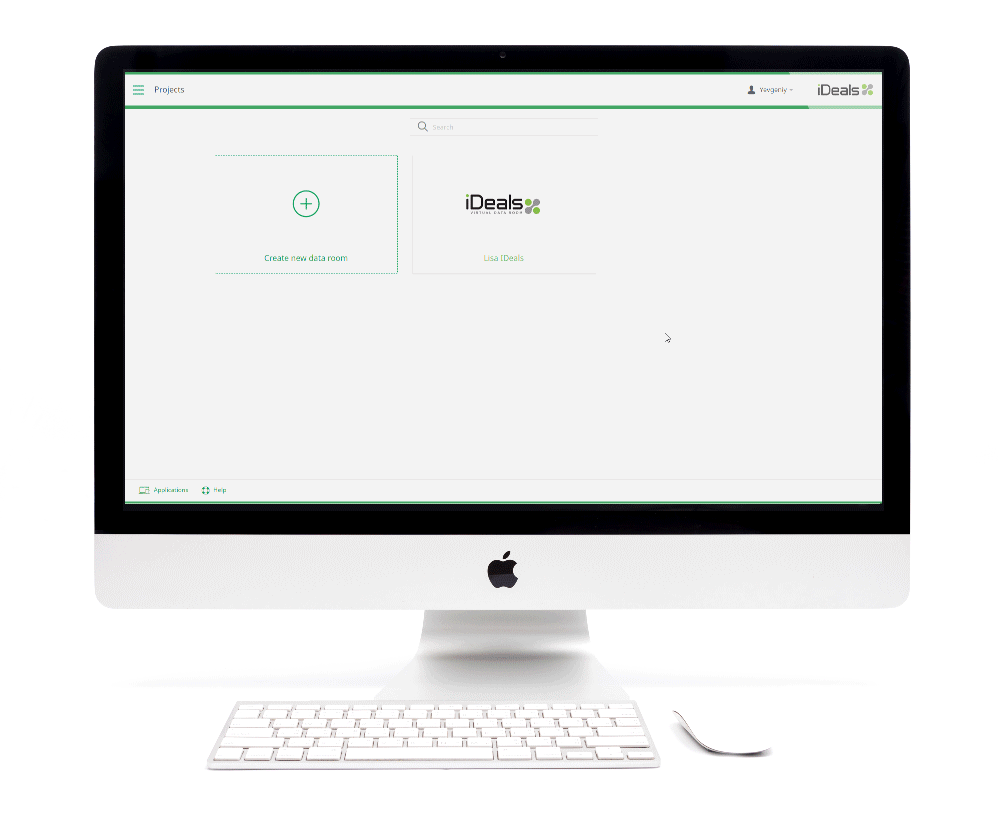 iDeals virtual data room is a secure solution for managing complex corporate deal processes. It provides executive teams with an online portal to collaborate, edit, and sign files. The iDeals VDR platform provides security, compliance, and efficiency in one place. Users of iDeals like it because both non-IT- and IT-proficient users can work with the platform easily.
30-DAY FREE TRIAL
iDeals VDR is available on a 30-day free trial version. Availing of the iDeals free trial gives the prospect a custom quote based on their requirements, such as the number of users and deals. With the free trial, iDeals provide assistance for new users to upload data into the platform and get started. iDeals also provides an individual live demo to get the free trial process started. You can get the free trial request by providing iDeals with an email address, phone number, and acceptance of iDeals T&Cs.
30 days of unlimited usage;
Live 1-on-1 with an expert;
24/7 email & phone support;
Data room setup assistance;
Complimentary training;
Corresponding Price Offer;
iDeals virtual data room pricing
iDeals data room pricing varies based on the users' requirements and preferences. The final price depends on the document, including software features, the necessity for secure SSO integration, and more.
Initially, each new iDeals virtual data room user is offered to choose between three plan options:
Pro. This plan is ideal for small and medium-sized businesses such as boutique law firms or private equity advisories. It offers:

One project, five administrators, unlimited users
Documents storage capacity up to 10 GB
Standard 24/7 support

Business. It's suitable for large businesses and multiple project handlers due to:

Unlimited virtual data rooms, unlimited administrators and users
Storage up to 250 GB
Premium support

Enterprise. This is a tailored plan for enterprise-level transaction management. It offers:

Unlimited projects, administrators, and users
Free unlimited data room preparation period
Storage up to 1 TB
Dedicated project management team
All the plans are available for a 30-day free trial and can be upgraded and downgraded if necessary. Secure data processing, branding, and graphic reports are available with all plans.
What does iDeals do best?
iDeals virtual data room is highly regarded for its security features. It uses two-factor authentication to enable bank-grade user logins. This is done by sending a code to the user by SMS. New users are added by central admins, with their usage within rooms and file access tightly controlled. Watermarks can also be added for additional security within each document. Management and administrators can run detailed reports showing exactly what each user did and when. This is trackable to document and page levels.
Some pros and cons of the iDeals data room are as follows:
Pros of iDeals
24/7 customer support in case of assistance or security breach.
Strong search functionality and indexing capability enable rapid location of files.
Granular document tracking shows time spent on entire documents and individual pages by a user.
Easy to run concurrent data rooms when multiple deals are happening at the same time.
Extremely confidential information can be set to view-only access, with restrictions on printing, downloading, and screenshotting.
Cons of iDeals
The price is on the high side.
A slight adjustment period for users to get used to the platform.
No functionality to clone a data room for a new project. Rooms must be started from scratch each time.
No ability to add notifications when individual documents are uploaded or edited.
The user access management interface can be a little complex to administer.
G2

Satisfaction score

98%

Ease of Doing Business With
iDeals VDR features
iDeals virtual data room feature set includes various essential and advanced tools for processing any business project, from day-to-day internal collaboration to high-stake transaction handling.
iDeals virtual data room features support each user in every aspect of a typical data room experience. It offers:
Secure communications and files exchange
Convenient documents' organization
Virtual data rooms' user management
Thought-out software interface
Virtual data room activity reporting
24/7/365 support
Based on user feedback, iDeals virtual data room price sets the provider above most virtual data room alternatives by offering more value. Below are the summaries of virtual data room iDeals' most prominent features.
iDeals virtual data room security features
The highest-grade security is what differentiates virtual data room software from any public-access document management platform. For example, when comparing Microsoft 365 vs iDeals virtual data room, iDeals VDR facilitates data encryption both at rest and in transfer, significantly reducing leak risks.
iDeals virtual data room grants administrators the possibility to regulate user permissions, monitor access to documents, support the confidentiality of every project, and secure files from malicious attacks.
iDeals virtual data room security feature examples:
Two-factor authentication with SMS code and email options
Eight levels of software interaction privileges
IP restrictions and fence view from unsolicited viewing
Constant data center support and maintenance
iDeals virtual data room document management features
Similar logic applies to comparing file-sharing services such as Google Drive vs iDeals virtual data room. Apart from storing files, iDeals virtual data room allows users to collaborate on documents in a secure environment, leverage automated software insights, and deflect camera-based attacks using fence view.
The combination of virtual data room software document processing capabilities creates an agile platform for file-heavy procedures like business plan development, due diligence, initial public offering, and more.
iDeals virtual data room document management feature examples:
Broad file format support
Instant document location with keyword search
Role-based secure viewing
Access and activity limitations
Customer support setup assistance
iDeals virtual data room user management features
iDeals virtual data room allows establishing up to eight levels of user permissions which helps to segregate departments and various seniority degrees. Administrators can employ tools for inviting contributors to projects, monitoring deal progress, and emailing business updates to specific user groups.
Virtual data room document and user organization service offerings are particularly useful for large enterprises and long-term project handlers, as they allow directing big teams faster and more efficiently.
iDeals virtual data room user management feature examples:
Data room user groups creation
Position-based software access
View-only rights for third-party due diligence experts
Secure private and public chats
Task management and workflow templating support
iDeals virtual data room interface features
A user-friendly interface is the foundation of all successful projects, as it allows each user to focus on their business responsibilities without second-guessing technicalities.
iDeals virtual data room interface feature set enables users to easily access the required documents, simultaneously collaborate on files, secure private interactions, and navigate extensive document volumes.
iDeals virtual data room interface feature examples:
Ability to customize the data room to fit the user's company image
Minimalistic yet functional interface compared to other virtual data room alternatives
Availability of data room interface in 14 different languages
iDeals virtual data room reporting features
iDeals virtual data room reporting functionality assists users by offering valuable insights into the progress of their project. This includes evaluating engagement and interest levels, streamlining due diligence, and adjusting user collaboration mechanisms.
iDeals virtual data room reporting feature examples:
Department-based analytics for large enterprises
Software security insights
Detailed access history for every document
Graphic reports on engagement and productivity
Analytics-based data room practices suggestions from the support team
iDeals virtual data room customer service features
iDeals virtual data room customer service offers a variety of service options to guarantee the success of users' business ventures.
Besides answering any arising questions via a knowledge base, phone support, and email support, the iDeals team assists with digitizing and organizing documents, training users on employing the software, explaining how to apply certain features to benefit a particular project, and creating multiple virtual data rooms.
iDeals customer support representatives are also the ones to reach out to for the starting price and free trial initiation.
iDeals virtual data room customer support feature examples:
24/7/365 live-rep chat, phone, and email support
Complete virtual data room FAQs available to all clients
A dedicated project team upon request
Constant development of practices for keeping the data room files secure
iDeals virtual data room solutions
Customizable branded workspaces with company logo and colors.
Collaboration is enabled between users with an in-room workflow. This keeps information and discussion securely contained within the virtual data room.
Cross-device access is enabled with sync across desktops, mobiles, shared folders, and cloud storage applications.

Internal security practices along with the VDR compliance with international information security standards ensure that your sensitive documents remain protected no matter what…
EXIBITIONS
iDeals participate in a range of industry conferences and exhibitions around the world, which focus on M&As and capital lifecycles. The exhibitions cover a variety of industry verticals. The company has taken part in M&A exhibitions in Germany, China, the Nordics, and the MENA region. Participation at these types of executive forums reinforces iDeals' positive standing in the market. iDeals exhibited at the CEE Merger and Acquisition and PE forum in April 2019. The conference covered every stage of the capital lifecycle, including:
Fundraising and private equity
Company structures
M&A processes and integrating
Financing for acquisitions
Deal sourcing
Execution and realization of value
This was highly topical for iDeals because all stages of the life cycle require document sharing and collaboration. Most deals are highly sensitive and require the highest levels of security.
Trusted by
iDeals is a leading virtual data room provider. It is used by big consulting firms such as Deloitte, EY, KPMG, and Accenture. iDeals also boasts many other famous brands as clients, including Toyota, Citi, LG, and American Airlines.