Headquarters:
New York, USA
Market Presence:
North America
Website:
transcend.transperfect.com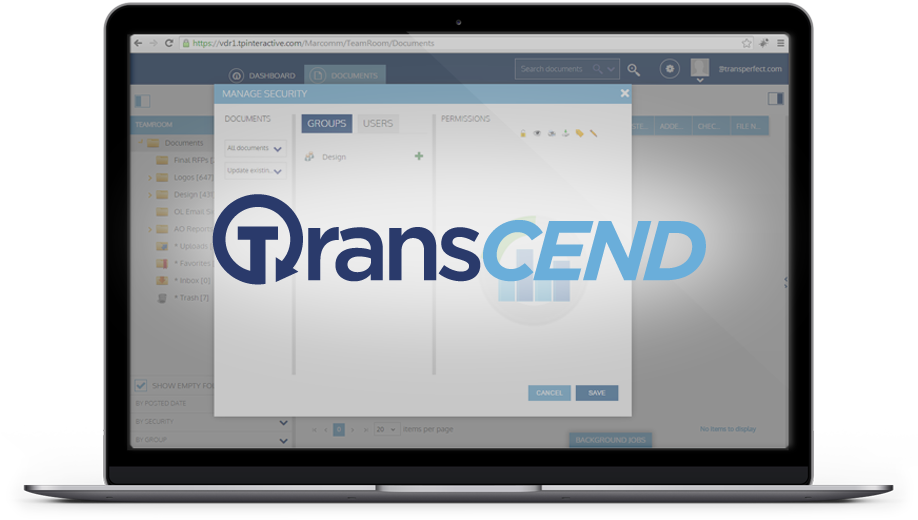 Transcend is a company that prides itself on three core attributes: Security, Accessibility and Speed. They serve businesses ranging from law companies to financial institutions. Transcend provides virtual data rooms that fix loopholes in data management and protect data from cloud-based computing attacks.
What does Transcend VDR do best?
Like almost any VDR company, Transcend deals with sensitive file sharing. Their services are designed to cater to big corporations, the financial sector, and law companies that want to make sure that their files are safe. Through a proven track record, they establish themselves as a trustworthy virtual data room provider.
On their website, you can find information about the risks of improper data handling for organizations. It helps to illustrate how volatile a company could be if the documents were not properly processed. This information educates visitors to the website about how important it is to take care of that data.
Transcend VDR data room features
Two-factor authentication and information rights security – a feature that provides double safety for your files.
Multilingual interface and support – an easy-to-understand interface and help in the user's mother tongue is key to good communication between the user and the service provider.
Enterprise content control – an especially designed system for the most complicated tasks a corporation might have.
Inactivity timer logout – this feature is helpful during those instances when the user forgets to log out from the VDR.
Dynamic watermarking – the chosen documents can be watermarked on the go.
Transcend VDR solutions
Proven solutions. They have a record of success. As per Transcend VDR reviews, people want to keep on using their services.
Unmatched solutions. They are a global company that caters to a lot of markets, hence they were forced to invent a wide array of tools.
Flexibility. There are many tools that the user has access to depending on the industry.
Accessible support. Their multi-language support team helps in solving the most difficult queries.
Transcend VDR provides its clients with a lot of features. Whether you are a representative of a law firm or a company from the financial sector, you will be able to find a service that caters to your needs. Businesses in these industries need to take special care of their sensitive data, and Transcend can do just that. Check out their offer and find out for yourself!